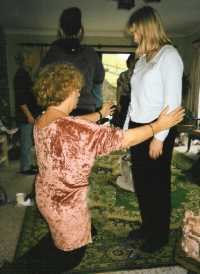 A wonderful opportunity to develop and express your innate divinity through the channelling of healing energies. Through raising our consciousness into the higher mind, our spiritual potentialities begin to unfold those healing and psychic qualities within, thereby enabling us to help ourselves and others aspire towards harmony, balance and wholeness in body, mind and spirit. By using that often latent healing potential and helping others in this way, your own inner light begins to shine ever more brightly, bringing a sense of peace and fulfilment which has a positive effect on yourself and others.
One Day Workshops
~ Introduction to spiritual healing ~
~ Healing, Psychic and Spiritual development ~
~ Working with Angel and Colour Energy ~
~ Past Life Regression ~
Accredited Courses
Spiritual healing and development
Syllabus
~ A Healing Process ~ Causes of Disease ~
~ History of Healing ~Thought Vibrations ~
~ Chakra Intelligence ~ The Aura ~
~ Psychic Protection ~ Spirit Guides ~
~ Self Healing ~ Meridian Centres ~
~ Psychic Surgery ~ Distant Healing ~
~ Grounding ~ Attunement ~
~ Animal Healing ~ Healing Effects on different Life Forms ~
~ The Power of Blessing ~ Intuition and Psychic Senses ~
~ Healers and Healee's Experiences ~ The Breath ~
~ Karma and Reincarnation ~ Basic Counselling Skills ~
~ The Magic of Water ~
~ Videos showing healing in a doctor's surgery ~
Also Includes
MEDITATIONS
VISUALISATIONS
DEMONSTRATIONS
EXERCISES
PRACTICAL HEALING
GROUP HEALING
BALANCING BODY ENERGIES AND CHAKRA SYSTEMS
SEEING AND SENSING AURIC ENERGIES
ENERGISING OBJECTS
SELF DISCOVERY THROUGH THE JOURNEY
CONNECTING TO A HIGHER SPIRITUAL POWER WITHIN THE "SANCTUARY OF LIGHT"
OUR ACCREDITED HEALING COURSES WILL HELP YOU TO
~ DISCOVER YOUR HIDDEN HEALING POTENTIAL ~
~ DEVELOP YOUR OWN SPECIAL WAY TO HEAL ~
~ ENHANCE YOUR NATURAL HEALING ABILITY ~
~ CONNECT TO HIGHER SOURCES WITHIN AND WITHOUT ~
COURSE VENUE
Woodlands Hotel
Woodlands Hotel is situated close to the town centre in the charming small seaside resort of Teignmouth on The South Devon coast.   About 12 miles from the beautiful historic,  cathedral  city  of  Exeter.
Woodlands, a small family owned hotel, stands in its own spacious grounds commanding sea views.  This  is one of the most interesting listed properties  in  the  area
FOR  VENUE  INFORMATION  CONTACT  COLIN  AND  MARGARET  FINNERAN
TELEPHONE:  01626 773094
WOODLANDS  HOTEL  OFFERS  EXCELLENT  CUISINE